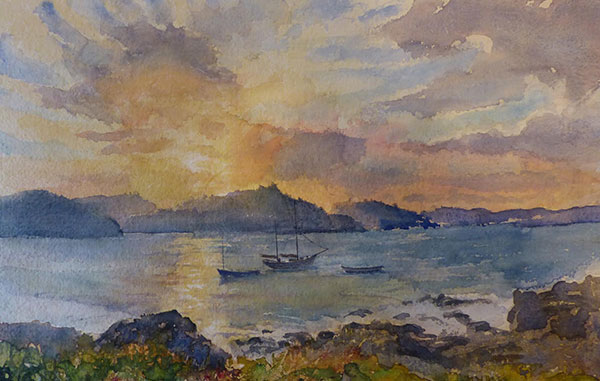 My paintings are representations of places and experiences. I work from original photographs and sketches. Painting is a process of simplifying reality. What to include is essential. During the process of doing preliminary sketches, I modify, eliminate, or invent elements that were not there originally.
After doing a pencil drawing on 300-lb cold pressed paper, I apply Winsor & Newton watercolor or Sennelier pigments.
Adjustments are made as I move forward. The accidental nature of watercolor painting includes random brush strokes and pouring or dripping the paint on the surface. This creates further opportunities for changes depending on the color combinations that occur. My driving thought is that the colors need to be harmonious and the look should be fresh.

Over the years I've found myself being drawn to places that are by water. Water can unify a composition, reflect the passage of time, and tell a story.